The great painters of the Italian Renaissance; Botticelli, Da Vinci and Michelangelo, have cast a long and large shadow over what we expect from Renaissance art and the paintings which we associate with it. We often fail to appreciate the skill involved with each piece due to the endless reproductions that make an image seem familiar even without reference to the original. The current exhibition at the RA on Giovanni Battista Moroni was therefore a new experience as it presents works of the highest quality which are free from the weight of several centuries' opinions and associations. Moroni painted portraits for the great and good of Bergamo as well as providing them with images for religious devotion and meditation. However, due to his decision to stay in a provincial town in Bergamo rather than move to a more influential city Moroni remained on the edges of the Italian cultural consciousness until he was rediscovered and reassessed during the nineteenth and twentieth centuries.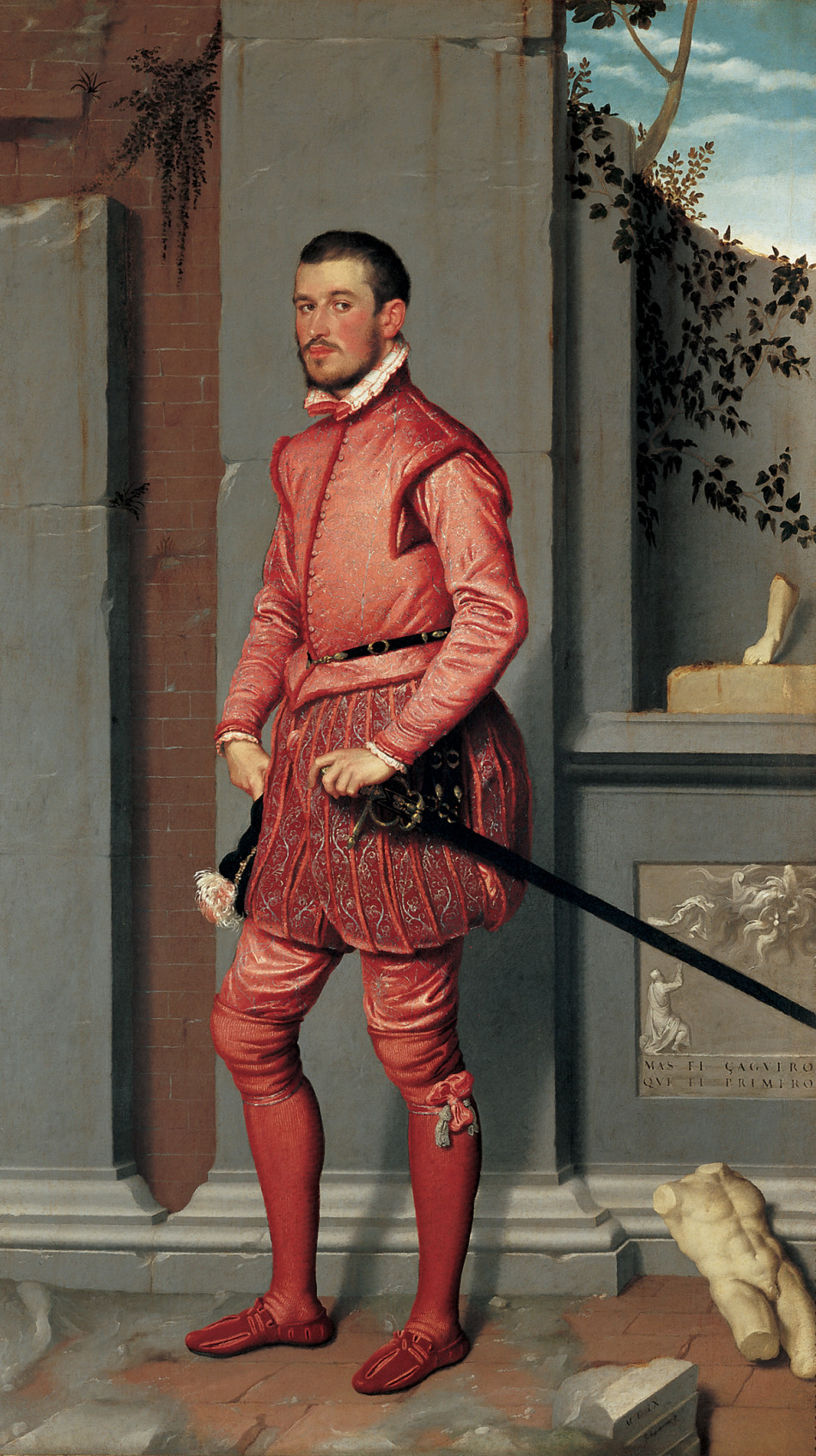 The exhibition opens with a display of some of Moroni's earlier work alongside those of his teachers to demonstrate how his career began. However, it is only once you reach the room containing his first large portraits that the exhibition really begins to reveal the technical skills that Moroni had in abundance. The walls are crowded with proud Italians in flamboyant clothing staring down at their audience and demanding to be admired. Moroni records everything from the curl of a lip to the toss of a head in the elite which employed him. It is tempting to believe that he had greater opportunity to record the exact likenesses of those he painted, rather than resorting to flattery, because he remained in a smaller city whose inhabitants did not demand such obeisance.
The vitality of each portrait is definitely reinforced by the fashions of the time. Men were not afraid to wear bright colours and the women wear intricately patterned dresses that cascade around them. They stand against backgrounds of classical pillars and luxurious plants. This dramatically changed within Moroni's career as his later portraits are a much more sober affair, with all the men dressed in black against simple background. Nevertheless, in all the portraits there is a sense of natural movement, slashed breeches appear to rustle in a light breeze, a tailor's scissors are half lifted towards a bolt of material and pages fall down a desk. Moroni also favoured a three quarters profile for his sitters, which often suggests that he has caught them accidentally as they turn around or look up from reading. This increased the sense of intimacy for the viewer as I felt as if I had chanced upon them rather than solely being impressed with their finery. The exhibition also included information about the lives of those they had been able to identify, some were married to each other while others were caught up in bloodthirsty family feuds. It was strange to imagine that one of the arrogant young men depicted would later to go on to die by falling down a well while drunk as he seems caught forever in the moment that Moroni painted him in.
I noticed throughout the exhibition that although Moroni was able to portray faces with such realism that I felt I recognised Italian aristocrats as mutual acquaintances this precision only extended to those who he could clearly examine from life. In comparison, his religious paintings of the Apostles and a nursing Mary felt flat with each Biblical character appeared slightly too smooth and unnatural. This became particularly apparent in paintings which included both a religious scene and portraits of the patron. In the corner of a Crucifixion tableau a man prays, his hands almost reaching out of the painting, while a stony Jesus hangs upon on the cross, difficult to distinguish if he is a marble statue or a dying man.
A portrait which particular amused me was this female face, frozen in a slightly annoyed and suspicious expression. Despite the fact that she has clearly prepared for the portrait since she is immaculately dressed in her best finery there is still a suggestion that she would rather the painting was not taking place, just as people now grimace for the camera. It seems strange that such a facial expression can still be understood and experienced today even though the medium and the subject's experience is vastly different to those of ours today. I like to think that if I'd ever had the chance to sit for a portrait by Moroni I would have treated him with less disdain, although I would not mind wearing the same jewellery.
I can remember each face clearly that Moroni depicted and it was impossible to pick a complete favourite, I continued to be amazed with how moods appeared to shift across the faces silently watching from the wall. This is the last week you can see the exhibition and I'd recommend making a diversion to go as it not only provides an insight into the lives of provincial Renaissance Italy but also is a breathtaking display of portraiture.